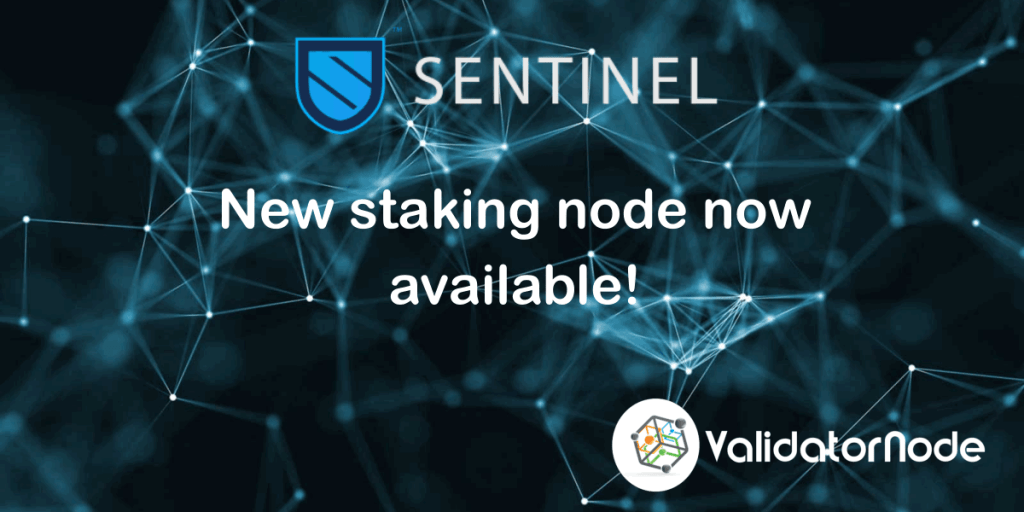 New Sentinel Validator Node
ValidatorNode is happy to announce that we have expanded our validator node offering. Our latest validator node is for the Sentinel Network and it is available for staking/delegating your DVPN now!
You can read all of the details about this node, and how to get started staking, from our Sentinel Node listing which includes more information about how to stake/delegate your DVPN to our new validator node.
Sentinel Network History
Sentinel Network began its operations over 4 years ago on the Ethereum based ERC20 network. Sentinel's Ethereum-based dVPN network produced a tremendous amount of interest with over 400,000 registered user devices utilizing the network, primarily powered by the Sentinel dVPN and Velocity dVPN Android applications (built on the Sentinel Network). It was soon realized, Ethereum's limitations in terms of throughput and transaction scalability did not allow for Sentinel's dVPN structure to be truly decentralized and scaled.
Along came the Cosmos Network, with its 10,000 transactions per second scalability. The significant increase in transaction processing times that the Cosmos SDK (Cosmos Network) has to offer allows for the Sentinel dVPN to become 'truly decentralized'. Nodes hosted on Sentinel's Cosmos-based dVPN infrastructure communicate with the Blockchain periodically to indicate their availability and other information, making the Sentinel Hub a decentralized 'node query' system.
New applications are under development and/or nearing the completion of the beta-testing phase. All of the new apps (dVPN, cChat, etc…) are being built using the Cosmos SDK and will leverage the power of the Cosmos Network environment.
Sentinel Network recently announced the Sentinel $DVPN Incentive Program on its native Cosmos-based Sentinel Hub. Read More Here!
Summary
In this announcement, we are introducing our latest addition to our Staking as a Service (SaaS) offering. ValidatorNode's Sentinel Validator Node. We are excited about the features/functionality that this new utility network will be offering.
ValidatorNode has committed nearly $20,000, along with over 40 man-hours, to ensure our Sentinel Network Staking Validator Node is ready for you. Thus, enabling our Sentinel Staking partners the ability to reap future rewards from the Sentinel Network.
About Sentinel
The Sentinel Network hosts open-source distributed and decentralized applications that provide users with assurance that their session information is not being logged, their communication is not being stored, and that not even the creator of the application can view any of their data.
Applications such as dVPN, a virtual private network, are hosted on the Sentinel Hub. The Sentinel dVPN has multiple types of Service Nodes such as OpenVPN Service Node, OpenVPN with TOR Service Node, WireGuard Service Node, etc.
About ValidatorNode
ValidatorNode is a fast-growing network of validator services. Having successfully partnered with many Cosmos-based networks, as a validator, we now have more than $10 million dollars worth of delegated crypto assets. Our innovative staking-as-a-service (SAAS) model allows retail investors/individuals to leverage their cryptocurrency tokens and earn profits. As a community-driven enterprise, we believe in mutual growth forging meaningful partnerships.
ValidatorNode "Delegator Partners" benefit from the highly secure, advanced, and updated features of the ValidatorNode ecosystem. You make the maximum while we ensure seamless continuity and scalability of the validating and staking process.