Secure Yourself Today!
An open-source decentralized VPN network application you can trust.
About the Sentinel Network
The Sentinel Network hosts open-source distributed and decentralized applications that provide users with assurance that their session information is not being logged, their communication is not being stored, and that not even the creator of the application can view any of their data.
Sentinel is powered by individual contributors from all over the world (with some of them residing in other parts of this galaxy) who wish to see a planet with more secure and efficient methods of communication and accessing data.
Components of the Sentinel network include;
Sentinel dVPN – An open-source decentralized VPN network application you can trust

Sentinel Network's – Hub & Zones
Sentinel dVPN
You may be asking what the Sentinel dVPN is and why would you need a VPN? You'll find those answers below.
Accessing Geo-Restricted Content – Users depend on VPNs to access geo-restricted content by connecting to servers located in countries that have permission to access the content they desire
Keeping secure on public networks – A VPN can prevent breaches of privacy on public networks such as those found in airports or coffee shops which would otherwise render users vulnerable
Securing yourself from 3rd party elements – VPNs are used to establish a secure and provable encrypted tunnel that has the power to ensure data privacy from external 3rd parties such as a user's Internet Service Provider
Sentinel Network's – Hub & Zones
The Sentinel Hub is responsible for activity on the Sentinel Network. Zones within the network run various decentralized/centralized apps.
Validators of the Sentinel Network secure independent Zones, or Zones can have their own Validators specific to the Zone. Multiple apps such as dVPN, dChat, and other Private Nets can run as Zones on the Sentinel Network.
Validators within the Sentinel network validate transactions based on the tokens staked and/or delegated to them. Staked tokens provide voting power to validators.
Validators are specific to the Sentinel Hub and enable the governance of the entire network. Validators of Zones, secure the chain dedicated to the functioning of the Zone and communication between chains happens through Cosmos Network's IBC.
Sentinel Service Node Network
Nodes that run applications specific to a Zone are Service Nodes that are local to the Zone. They do not Validate transactions, but different types of Service Nodes are responsible for a variety of app-level blockchain interactions
The Sentinel dVPN has multiple types of Service Nodes such as OpenVPN Service Node, OpenVPN with TOR Service Node, WireGuard Service Node, etc.
The DVPN Token
The Sentinel Hub's primary token is the DVPN.
The DVPN is the Sentinel Hub's primary token and secures the Hub's valuable interchain services. If you hold DVPN, you can temporarily lock them up to contribute to the security of the Sentinel Hub using a mechanism called Staking. In exchange for locking your DVPN, you receive rewards in newly minted DVPN and a share of the transaction fees that are collected by the blockchain.
By staking DVPN, you are able to vote in Sentinel Hub governance decisions.
Earnings/Commission
For delegators, on the ValidatorNode Sentinel Validator, we have a low 5.0% commission rate. Our commission charge covers the cost of operating and maintaining our validator node thus ensuring maximum uptime and security for our staking customers.
To learn more about all the potential earnings channels available with the Sentinel Network, please see this blog post.
Use this online "Sentinel Staking Rewards Calculator" to calculate your investment rewards.
Input your delegation amount, and select your compounding choice, to see your potential earnings.
Sentinel Network Links
The following links are provided for additional information about the Sentinel Network and our Sentinel Validator Node;
Sentinel Explorer Link
ValidatorNode — Sentinel Validator Node Details on ourExplorer
MINTSCAN — Sentinel Validator Node Details on MintScan
Sentinel Informational Links
Here are a few links providing additional information regarding the Sentinel Network;
Sentinel White Paper          – https://sentinel.co/whitepaper.pdf
Sentinel Token                      – https://coinmarketcap.com/currencies/sentinel/
Sentinel Network Website – https://sentinel.co/
Validator Node for SENTINEL
Our Sentinel Validator Node allows individuals and companies the ability to participate in the ecosystem of the Sentinel Network by delegating Sentinel Tokens (DVPN) to our validator node.
We've tried to make it as easy as possible to delegate your DVPN with ValidatorNode. Anyone can now delegate their DVPN right from our Explorer page.
Click the image below (Explorer opens in a new tab) and get started today!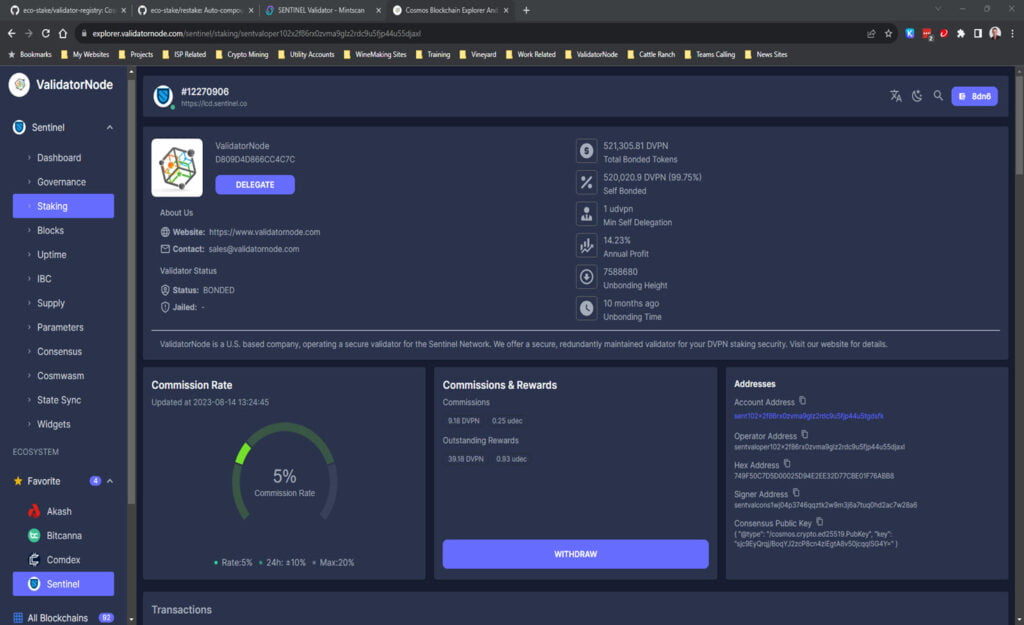 For those that don't want to use a Keplr wallet or do not have a LedgerUSB wallet. You can still delegate tokens to ValidatorNode, and start earning income from your delegations, just delegate your DVPN to our ValidatorNode Sentinel validator address below (click address to copy to clipboard);
sentvaloper102x2f86rx0zvma9glz2rdc9u5fjp44u55djaxl
DVPN delegated to our Sentinel Validator Node will begin earning income immediately. Payouts are automatic and can be monitored via any of the above explorers.
---
Network Specific FAQ's (SENTINEL)
The following are some of the Frequently asked questions about staking SENTINEL ($DVPN) with ValidatorNode.
How can I begin delegating (staking) $DVPN with ValidatorNode
Becoming a delegator to start Staking with ValidatorNode is easy.
The first step is to buy native tokens of a POS (Proof Of Stake) network supported on the platform; for example, SENTINEL (DVPN). You can refer to this detailed guide – How to purchase SENTINEL (DVPN) using Coinbase.
Once you have your purchased tokens safely in your wallet (Keplr, Cosmostation or CLI) you can then delegate your DVPN to our Sentinel ValidatorNode.
We have provided a complete series of articles to get you started here.
How much SENTINEL ($DVPN) should I initially stake
Ideally, considering you're Staking on the Sentinel Network, we recommend starting with as much DVPN as you can afford. Sentinel is currently paying out more than 55% and earning larger returns with regular re-investing.  But, you can start with any number of tokens, to begin with.
At ValidatorNode, we do not deliberately put a minimum/maximum filter as a prerequisite to get you onboard. You can start generating a proportionate passive income staking as little or as much you want. The amount that you delegate is completely up to you!
You can use this handy "Sentinel Staking Calculator" to assist you in determining the amount to stake and the prospective returns you can expect to make.
How to purchase Sentinel ($DVPN) tokens and start staking profitably
Sentinel ($DVPN) tokens are available on many popular exchanges. However, we recommend using Coinbase.
Coinbase is a very popular and easy-to-use exchange and it is available everywhere!
Please refer to this article: How to purchase Sentinel ($DVPN) using Coinbase
Is Sentinel ($DVPN) a reliable investment
Sentinel ($DVPN) is a reasonably reliable investment. The DVPN is the Sentinel Hub's primary token and secures the Hub's valuable interchain services. Sentinel DVPN currently secures $114.21 billion USD in digital assets across 39 apps and services. 
Going by the statistics and figures, the Sentinel ($DVPN) has demonstrated a consistent increase in trading volume, since its launch. Furthermore, Sentinel ($DVPN) prices have been fairly stable despite the highly volatile nature of the cryptocurrency market.