In this article, we explain in detail how to start staking your Akash $AKT and benefit from ~57% APY passive-income potential using the Cosmostation Web Wallet with Keystation or your Ledger Nano.
Article Series (4 of 7)
This is the 4th article in our series relating to the purchasing, trading, and staking of Akash ($AKT). If you are just discovering this article series, you may want to review our previous articles to understand the complete steps;
How to Stake Akash ($AKT) via Cosmostation Web Wallet
If you have already purchased your Akash ($AKT) and want to know how to create a personal wallet and begin staking using one of the Cosmostation options then read on.
Cosmostation Wallet Options
Cosmostation offers two avenues for accessing/creating Akash Wallets;
Cosmostation Web Wallet – The Cosmostation Web Wallet is an interface into Akash Wallets. It is not a complete wallet by itself like Keplr is. Instead, it provides the ability to connect to either of the following;

Cosmostation KeyStation
or
Ledger Nano (hardware key device)

Cosmostation Mobile "App" Wallet – The mobile app wallet is available for both Android and IOS mobile devices.
For now, let's walk-thru the steps required for accessing/creating an Akash ($AKT) wallet using the Cosmostation Web Wallet.
(We will cover the in-depth process of using the Cosmostation Mobile App Wallet in a later article).
Cosmostation Web Wallet
To start using the Cosmostation Web Wallet, you first need to either own a Ledger Nano Hardware Device or have already created a wallet/mnemonic thru another method that can be used for importing your wallet into Cosmostation Keystation and used with the Cosmostation Web Wallet.
It's important to note that the Cosmostation Web Wallet is not a wallet by itself. The web wallet is merely an interface into a wallet & keys kept on your Ledger Nano Hardware device or within Keystation.
Cosmostation Keystation
Cosmostation has created a web interface that provides end-to-end encrypted key manager for networks built with the Cosmos SDK. The Akash Network has been integrated into Keystation allowing Akash holders to interact with their Akash $AKT Wallets from their workstation's browser. Cosmostation developed Keystation to give their users a more convenient method to not only log into web wallets but also access decentralized exchanges and applications.
Steps for Using Keystation with the Cosmostation Web Wallet
If you have an existing wallet (read our upcoming article on the Akash CLI), and you want to have access to that wallet using the Cosmostation Web Wallet, use the steps below to import your wallet into the Cosmostation Web Wallet utilizing your wallet keys stored within Cosmostation Keystation.
On the Cosmostation Web Wallet website, in the top right corner of the page, ensure you have AKASHNET-2 displayed in the wallet dropdown listing.
Then click on "Connect Wallet"
In the window that appears click "Connect to Keystation"
A new window will display the Keystation Sign In. Since we do not have a Keystation account yet, click "Import Wallet" so you can import your mnemonic and create your account
On the screen presented you can supply a Wallet Name and Mnemonic. Choose a wallet name for your new wallet (it can be something meaningful to you) and paste in the mnemonic phrase for your wallet. Click on "Next" to continue
You will now be asked to create a Pin for your wallet. Enter your desired Pin. Do not forget your Pin as you will always need it to access your wallet and perform wallet transactions. Enter your desired Pin (4 numbers / 1 letter).
Next you are asked to confirm your Pin. Enter your Pin again (4 numbers / 1 letter)
On the next screen you will see an Encrypted Mnemonic Phrase. Click on the "Copy" to copy the encrypted mnemonic phrase from the 1st box and paste it into the 2nd box (you will not see the pasted version in the 2nd box instead it will be hidden with a series of dots). Click "Next"
The last screen you see will be like the one below. This step is informing you to be certain to allow your browser to save your password for your wallet in your browser keychain.
NOTE – If you do not see the Popup asking to "Save Your Password" it is most likely due to not having the option to save passwords automatically enabled. In Google Chrome, you can enable this option here – chrome://settings/passwords
Now click "Connect" and your wallet should open up and display similar to the following;
Great Job!!!
You now have access to your wallet using the Cosmostation Web Wallet interface via the Cosmostation Keystation.
Ledger Hardware Wallet
The Ledger Nano Family of Hardware Wallets is the only hardware wallet that currently offers support for storing your Cosmos-based assets (including Akash $AKT). When you own crypto assets, you need a secure place to store your funds. You probably already realize that you shouldn't store it on exchange and that hardware wallets are the best way to protect your private keys.
Some of the benefits of using a Ledger Hardware wallet are;
Ledger hardware wallet, combined with the Ledger Live app, is the best solution to secure, store and manage your crypto assets
Ledger hardware wallets are designed with the highest security standard to keep your crypto secure at all time
Ledger Live app is the one-stop-shop for your crypto: buy, sell, exchange, and grow your assets with our partners, easily & securely
With Ledger you can secure, store and manage a wide range of crypto assets – 1800+ crypto assets supported
The most popular hardware wallets: more than 2 million units sold all over the world
Steps for Using a Ledger Hardware Wallet with the Cosmostation Web Wallet
Ensure that your Ledger device is updated with the most recent firmware then follow the below steps to connect and set up the Cosmostation Web Wallet with your Ledger Hardware device;
Connect your Ledger Hardware Device to your computer
On the Cosmostation Web Wallet website, in the top right corner of the page, ensure you have AKASHNET-2 displayed in the wallet dropdown listing.
Then click on "Connect Wallet"
In the window that appears click "Connect to Ledger"
Follow instructions on the pop-up to securely connect your ledger and begin making transactions using your Ledger Hardware Wallet device.
Upon completion of the setup steps, you should see your Ledger Wallet on the Cosmostation Web Interface
Let's take some of that hard-earned Akash ($AKT) and delegate it to ValidatorNode to begin earning passive income from delegating/staking Akash with Cosmostation.
How to Stake Akash ($AKT) with Cosmostation Web Wallet
Now that you have your wallet & keys contained within Keystation or your Ledger Hardware Wallet you can visit the Cosmostation Web Wallet website anytime. Just log back into the site using the following steps;
click the "Connect Wallet"
click either the "Connect to Ledger" or "Connect to Keystation" link based on how your setup your wallet from the previous steps
click "Next"
enter your Pin number
Once you are logged back into your wallet, you can begin the delegation procedure by clicking on the "Reward" link in the left pane of your wallet.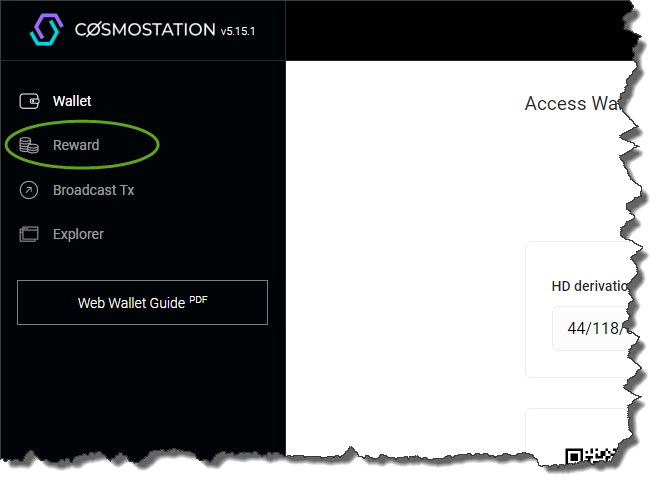 In the Reward page, you will want to scroll down the listing of "Validators open for delegation" until you locate the entry for "OurLink | ValidatorNode".

Now click the "Delegate" button next to our listing.
In the popup window that appears enter the "Delegation Amount" you wish to delegate (stake) and any "Memo" notes (optional) you would like to make (In our example, we have 29.98 AKT available and have chosen to delegate 28.00 AKT to ValidatorNode).
Then click "Generate & Sign Transaction" to submit your delegation amount.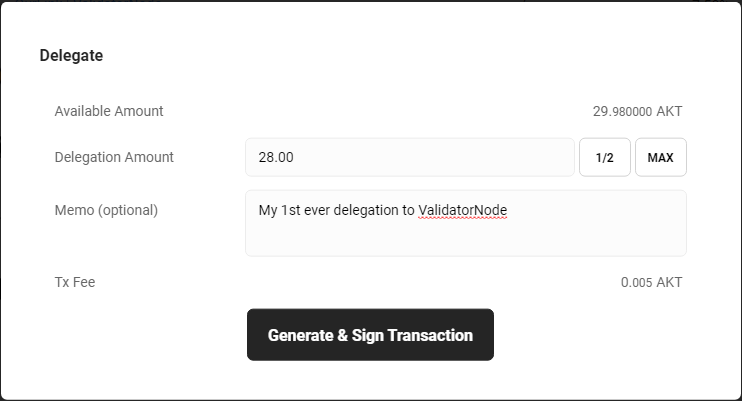 NOTE – do not delegate the full amount you have available (you will get a warning otherwise). You always want to keep enough AKT in your wallet to handle fees and gas charges.
This will generate the transaction to be submitted for your Delegation (staking). You will now be presented with a window asking for your review/approval of the generated transaction. Alongside this window are instructions on the steps to complete the Delegation transaction.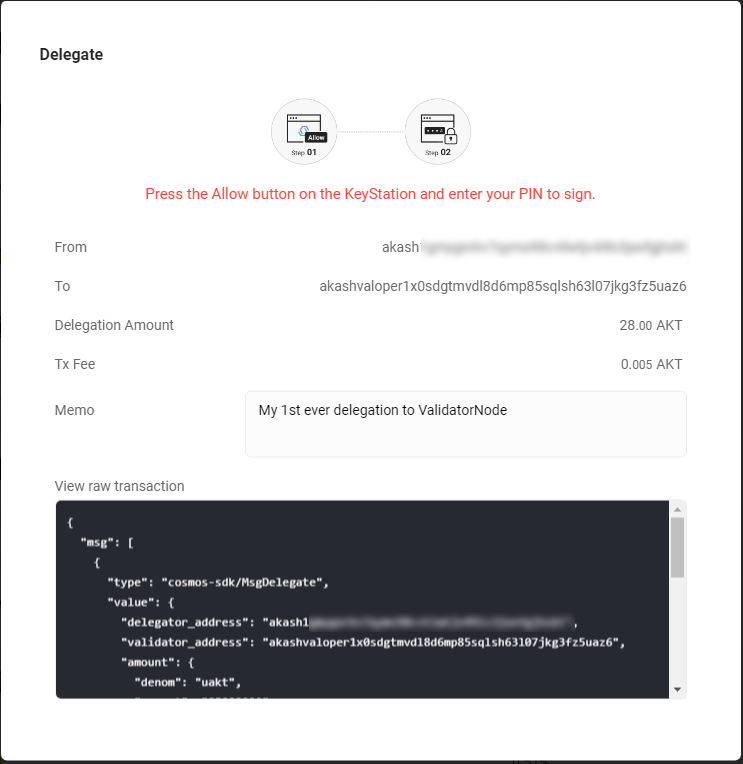 Click the "Allow" button if you are ready to proceed.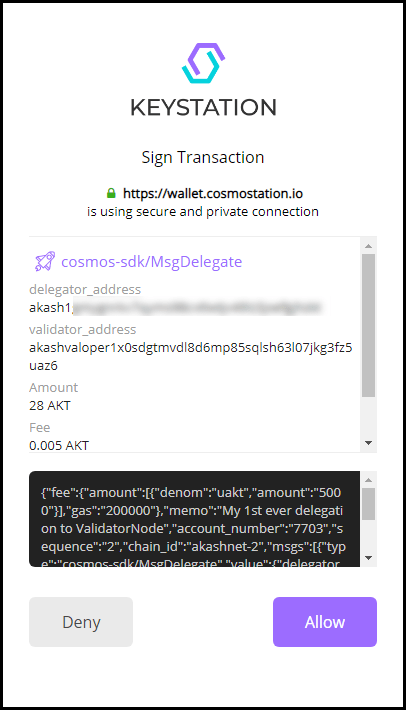 Enter your Personal Pin (4 numbers / 1 letter) and then click the "Confirm" button to submit your Delegation (Staking) transaction.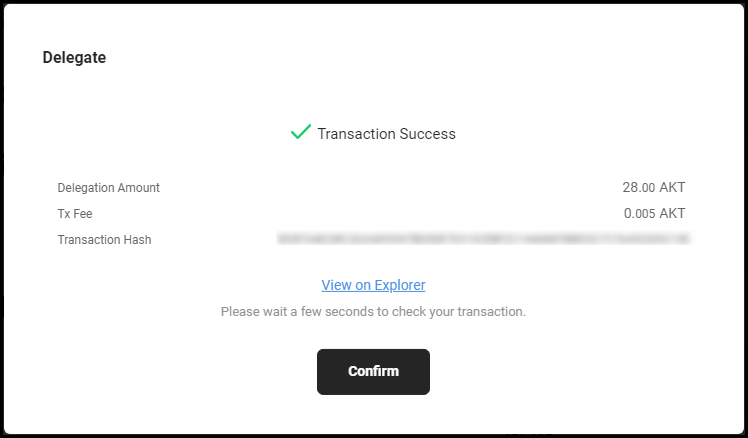 Now each time that you go into your wallet and click on "Reward" you will see a new section called My Validators that will look similar to the following;
As you can see, there are a set of 4 buttons in this section for each Validator in your listing (Delegate, Undelegate, Redelegate, and Claim Rewards). We will provide more details about these buttons and their usage in a later article. But for now, feel free to look around!
Congratulations on learning How to Stake (Delegate) Akash ($AKT) using the Cosmostation Web Wallet.
Summary
In this article, we have provided the steps outlining How to Stake Akash ($AKT) via Cosmostation Web Wallet. This article is part of a series of articles that we are publishing to assist users of Akash ($AKT) and to help raise the awareness of Akash.
About Akash
The Akash Network (Akash) is a secure, transparent, and decentralized cloud computing marketplace that connects those who need computing resources (clients) with those that have the computing capacity to lease (providers).
Akash acts as a "super" cloud platform (supercloud) – providing a unified layer above all providers on the marketplace so as to present clients with a single cloud platform, regardless of which particular provider they may be using. Clients use Akash because of its cost advantage, usability, and flexibility to move between cloud providers and the performance benefits of global deployments. Providers use Akash because it allows them to earn profits from either dedicated or temporarily unused capacity.
About ValidatorNode
ValidatorNode is a fast-growing network of validator services. Having successfully partnered with the promising Akash Network we now have more than $10 million dollars worth of delegated crypto assets. Our innovative staking-as-a-service (SAAS) model allows retail investors/individuals to leverage their cryptocurrency tokens and earn profits. As a community-driven enterprise, we believe in mutual growth forging meaningful partnerships.
ValidatorNode "Delegator Partners" benefit from the highly secure and advanced and updated features of the ValidatorNode ecosystem. You make the maximum while we ensure seamless continuity and scalability of the validating and staking process.