Cryptocurrencies have become exceedingly popular in recent years. From the legendary Elon Musk to Twitter's CEO, Jack Dorsey, corporate leaders are confidently endorsing the top decentralized tokens. 
With altcoins steadily inching towards mass adoption, it is now easier than ever to purchase cryptocurrencies. In this article, we bring to you a step-by-step guide on how to purchase crypto (via bank drafts) using Coinbase.
What Is Coinbase?
A cryptocurrency exchange is an online marketplace to buy, sell, store, and trade cryptocurrencies.
Coinbase is the world's biggest and the most popular cryptocurrency exchange with over 43 million verified users. Currently, it has an estimated valuation of $90 billion on the Nasdaq private market. The leading cryptocurrency exchange is soon to go public via a direct listing. Coinbase already secured a green signal from the SEC (U.S Securities &  Exchange Commission). It means Coinbase's own stock (COIN) will soon be trading along with other top stocks on the Nasdaq stock exchange.
Purchasing Cryptocurrency With Coinbase
Purchasing Bitcoin or any other cryptocurrency coin with Coinbase is easy.
For those who are already familiar with cryptocurrency exchanges, here's a quick step-by-step guide on how to purchase Bitcoin and other cryptocurrencies via bank wires using Coinbase:
Create a Coinbase account:

Visit the official Coinbase website and create an account with minimum details.

Get your account verified

: Upload a government-issued photo ID and get your account verified. Don't forget to secure your account by enabling

two-step verification

.

Make a deposit/purchase by selecting the bank wire payment method:

Choose bank wire transfer as your payment method to fund your Coinbase USD wallet and directly purchase crypto via a bank draft. Highly recommended for all high-value purchases.

Select a crypto, lock the price, make payment, and receive cryptocurrency in your Coinbase wallet: First select the cryptocurrency you want to purchase, o

nce you make a payment via a bank draft you instantly lock the price of the crypto you're purchasing. However, it may take up to five working days to receive your purchased coins in your wallet.

Transfer your cryptocurrency to a private wallet (if you have one):

Though this final step is optional but highly recommended. Once you purchase cryptocurrencies on Coinbase or any other cryptocurrency exchange, it is always safe to have your tokens

stored in a private wallet.

However, Coinbase being the biggest and the most popular exchange, its wallet is highly secure and you get it for free with your Coinbase account.
If you're not already into trading/purchasing cryptocurrencies here's an exhaustive visually intuitive guide detailing each of the above steps in the process:
Detailed Walk-thru for Purchasing Cryptocurrency with Coinbase
Step 1 – Creating Your Coinbase Account
To create a Coinbase account, visit the Coinbase website. You can also download the Coinbase App supporting android devices on Google's Playstore, and from the Apple Store for iOS devices. It is very important that you visit the official website.
We recommend that you use your desktop or laptop computer to follow these steps.
As always – please beware of scammers and avoid using any third-party sign-up links promising lucrative rewards. Make sure, you never share your details with any third-party websites claiming to be affiliates of Coinbase.
The official website of Coinbase is https://coinbase.com 
Once you're on the Coinbase website, on the top right you'll see the "Get Started" button.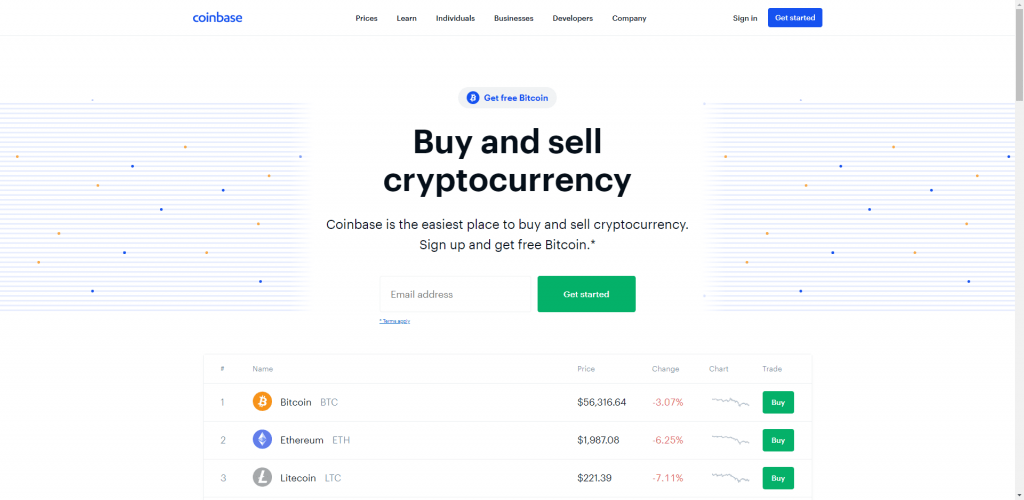 Select "Get started" on the top right. Coinbase will now ask you to create an account.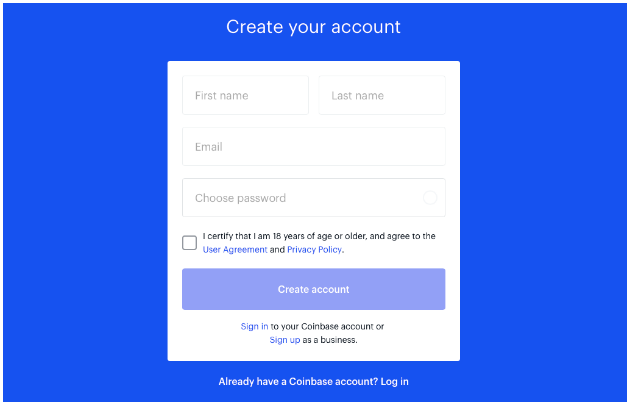 Once you fill in the details and click the "Create Account" button you'll see a welcome message from Coinbase.
As a part of Coinbase's ongoing promotion efforts, Coinbase offers a $5 credit to all those who create their account for the first time on the platform. It is important to note that the promotions may differ from time to time and it also depends on your geographical location. Moreover, the promotional bonus gets credited to your account only after you have your photo ID-verified.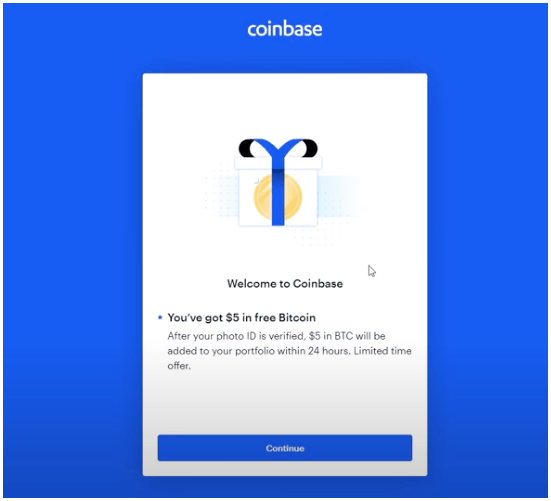 Claim your bonus by selecting "Continue".  This step will trigger a verification email from Coinbase to you. Please check your email and click on the link from Coinbase to get your email verified.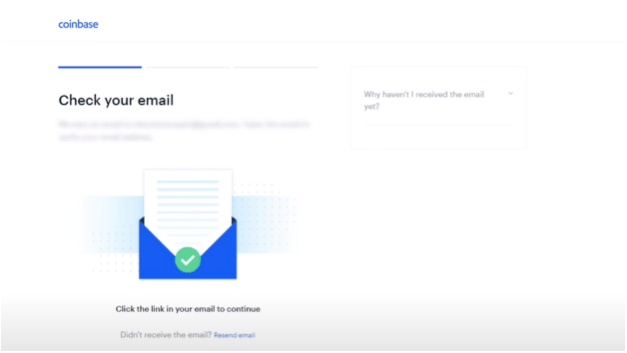 After your email is successfully verified, what follows is a step to set up a two-step verification process to secure your account.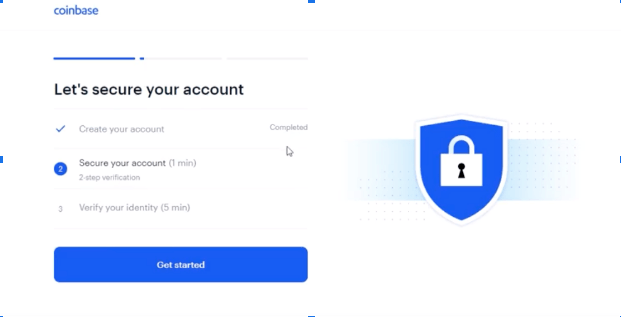 Click the "Get started" button to begin the process of 2-step verification.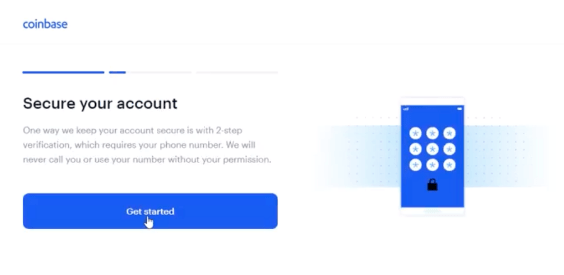 2-step verification uses text messaging to secure/verify your account using your phone number. Read the overview and click "Get Started" to begin the process.
Remember, never open your account on an insecure browser or, share details with any third-party affiliates.
Step 2 – Getting your account verified
In this step, you're asked to verify your mobile phone number which you want to be linked to your Coinbase account.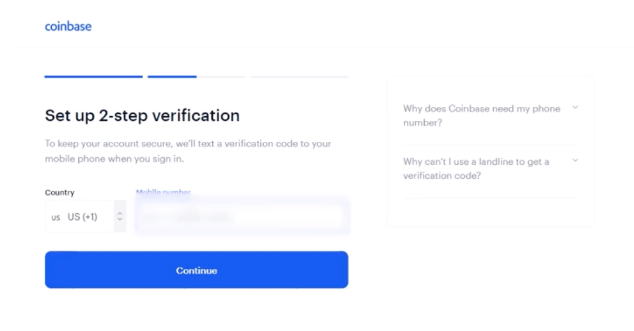 Once you supply your phone number and click "Continue", you will receive a verification code via a text message to your mobile phone.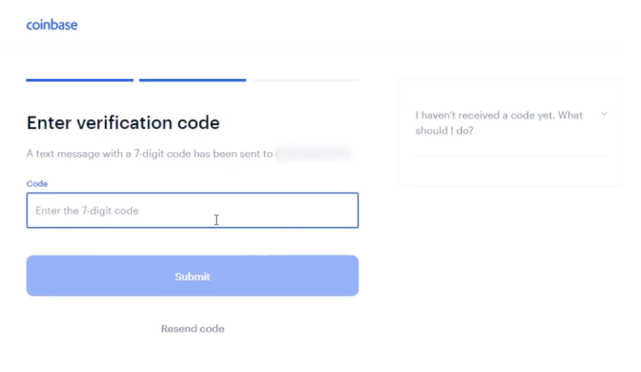 Now, enter the code that you received in your text message and click "Submit" this will complete the 2-step verification process.
Note – if you do not receive the text within a reasonable timeframe click the "I haven't received a code yet…" link on the Coinbase page.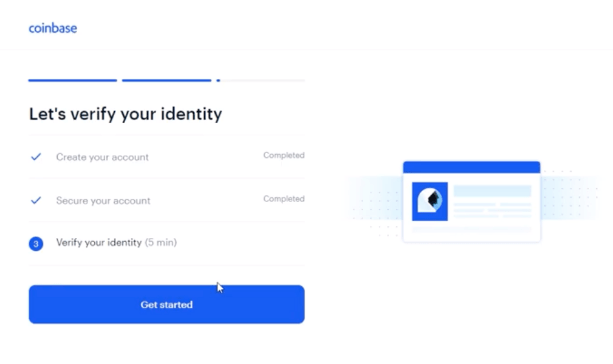 Next Coinbase will verify your Identity. Click on the "Get started" button to begin this process. You will see a form seeking personal verification details.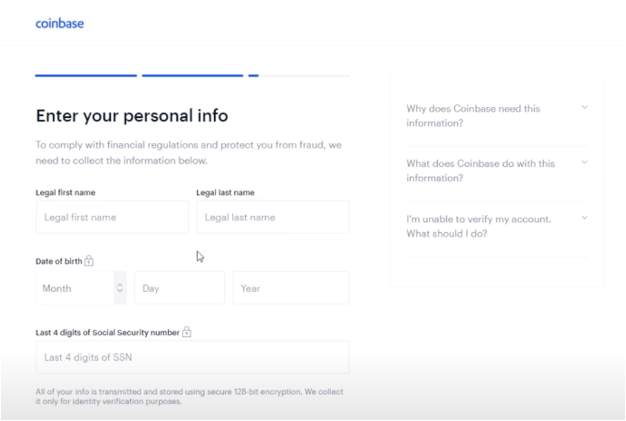 Once you fill in the form and select "Continue", Coinbase asks you to enter your residential address. (While filling out the address, it is important to note that PO Box addresses are not accepted by the Coinbase system.)
After you successfully provide your address, Coinbase asks a few basic questions, such as your primary source of income, your employment status, etc…
Complete the Verification Info as accurately as possible. Accurate information will enhance the ability for Coinbase to verify your account.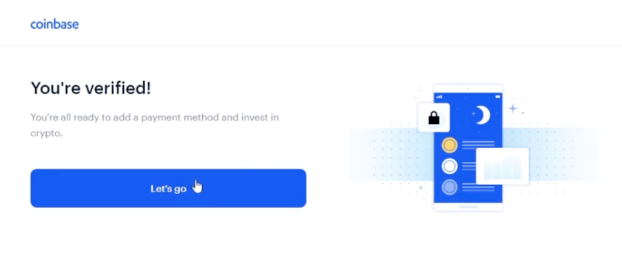 And there you go, now you have your account verified and setup. 
Note – for added security we recommend that you also enable 2-factor authentication (2FA) on your Coinbase account.
Go on to add your payment method and start purchasing crypto directly into your Coinbase wallet!
Step 3 – Make deposits using Bank Wire to fund your Coinbase USD wallet: Coinbase offers a host of payment methods for deposits and withdrawals. You can purchase cryptocurrency using all popular debit and credit cards and even via bank transfers or online banking. Once you have set up your Coinbase account, you'll need to choose a payment/deposit method to purchase the crypto of your choice. The available methods are;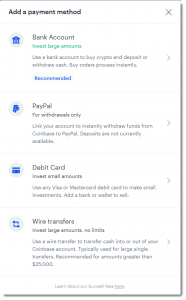 To add a payment method to your Coinbase account you have several different avenues to use;
You can add the payment method of your choice from your Account / Settings / Payment Methods page
You can click the "Buy/Sell" button in the top right corner of your account page and then from there you can click the "Pay with" option
You can click on the "Portfolio" tab on your account's home page, select the crypto you would like to purchase, then select the "Pay with" option

You can deposit money directly into your USD wallet for use when purchasing crypto by using the steps outlined below
Apart from the popular methods like using credit or debit cards or online banking, you can purchase crypto directly through a bank draft/wire transfer by funding your Coinbase USD wallet.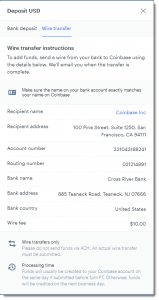 To purchase cryptocurrency via bank draft you need to fund your Coinbase USD wallet. It is simple and all you need is to 
Click on the

"Portfolio"

tab on the home page

Select 

USD Wallet

Click on the

"Deposit"

button

Select

Wire Transfer

as your deposit method from the Deposit USD menu.

Initiate a wire transfer by using the information displayed.
Once you select Bank Wire as your deposit option, it is important to note that you don't make ACH transfers. At the moment only actual bank wires ("FedWire") are supported. 
After you have selected the payment method and the amount of crypto you want to purchase you'll see a preview of your transaction. In the preview, you would be able to see the details of your purchase including the amount/number of cryptocurrency you are purchasing, the price at which you're making the purchase, and the Coinbase fees and charges depending on your payment method.
Here's a checklist to avoid any discrepancies while making a wire deposit on Coinbase:
Your bank wire name should match your name registered on the Coinbase account.

The bank wire should be from a US bank account.

The bank account from which the wire transfer is made should not be associated with any other Coinbase account. You're not allowed to have two different personal Coinbase accounts with the same credentials.

A unique reference code provided by Coinbase for your wire transfer should be included with the wire deposit.

Only transactions above $5000 are supported when using bank drafts to fund your Coinbase USD wallet.
Step 4 – Lock the price, make payment, and receive cryptocurrency in your Coinbase wallet: Once you make the payment you'll receive a message from your bank confirming the payment. You'll also be notified by Coinbase. However, because these transfers can take up to 5 working days depending on your bank and your geographical location, your account will not reflect the purchase of cryptocurrencies immediately. You receive your tokens in your Coinbase wallet only after the payment has been processed. 
Now, because of the volatile nature of the cryptocurrency market, it is very probable that the price of your purchased coins could go either way in the next five days until the transaction is processed and you actually get your tokens in your Coinbase wallet.
The good thing is, with Coinbase, as you purchase crypto via bank transfers you don't have to worry about the price fluctuations. Your price gets locked the moment your payment is initiated and confirmed. It means you'll receive the same amount of cryptocurrency in your Coinbase wallet regardless of the changes in price. 
Step 5 – Transferring your cryptocurrency to a private wallet (if you have one): Cryptocurrencies are stored in electronic wallets. A private wallet of your choice just adds an extra layer of security to your crypto assets. Coinbase provides a highly secure wallet at no additional costs and the majority of cryptocurrency traders and investors have their tokens parked in the Coinbase wallet. However, it is recommended to have a private wallet to get the highest security.
Summary – Advantages Of Buying Crypto Directly From Your Bank Account
While Coinbase offers a host of popular deposit and withdrawal methods, buying crypto through bank transfers has certain practical advantages:
Security: Purchasing crypto through your bank account is highly secure. Because it involves a direct transaction between your bank and Coinbase with no intermediaries, risks are significantly lower.
With no third-party involvement, the process is comparatively more secure than others.
Cost-Effective: Wire transfers are significantly cheaper when it comes to purchasing crypto using Coinbase. Moreover, if you make high-value purchases on Coinbase, a bank draft will save you significant amounts of money as the charges on Coinbase are progressively diminishing.
For example, the percentage/cut you pay as charges for a $100 purchase is much higher than the percentage/cut you pay for a $1000 purchase. It means if you're paying 3 dollars for a $100 purchase on Coinbase, you'll

not be paying $30 for a $1000 purchase. It could be as low as 14 or 15 dollars.

Also, bank transfers are comparatively cheaper than purchasing crypto with a debit or a credit card. In case of a payment using a debit or a credit card, Coinbase has to make payments to the transaction processing agencies like Visa or Maestro. That leads to additional charges making it comparatively expensive for investors and traders.
If you're not in an absolute rush to get your purchased cryptocurrency in your wallet, at ValidatorNode we always recommend our partners to make crypto purchases using a wire transfer or bank draft.
Hopefully our step-by-step guide on "How to purchase Crypto (via bank drafts) using Coinbase" helps you get started with your crypto journey by making seamless and smart crypto purchases using Coinbase.
If you have any questions, doubts or queries do share them in the comments below.
If you want to know more about how to make additional income using your cryptocurrency without selling them, get to learn more about profitable staking here: Staking Made Easy.