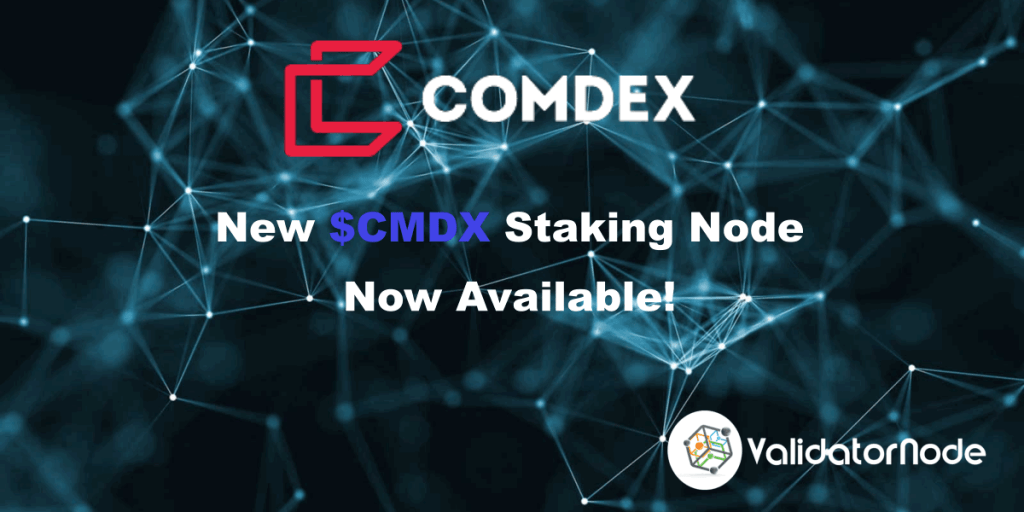 New Comdex Validator Node
ValidatorNode is happy to announce that we have expanded our validator node offering. Our latest validator node is for Comdex and it is available for staking/delegating your $CMDX now!
You can read all of the details about this node, and how to get started staking, from our Comdex Node listing which includes more information about how to stake/delegate your $CMDX to our new validator node.
Comdex History
Comdex's journey started with a vision to create interoperable solutions to access financial products and services in the commodities space. Launching their protocol on the Cosmos ecosystem seemed like the natural first step in realizing this goal. They are keen on building solutions that will bridge the gap between DeFi and CeFi. Their decentralized synthetics protocol brings efficiency, transparency, and trust to commodity and trade finance industries.
Comdex is an ecosystem of solutions to democratize finance and bridge DeFi and CeFi.
The decentralized synthetics protocol of Comdex enables users to collateralize their holdings to take exposure to a range of synthetic assets.
The enterprise commodities trading platform, built in the Persistence ecosystem, brings trust and efficiency to the industry. ShipFi, a dApp in Comdex's ecosystem, will facilitate the digitization of trade finance debt products.
The decentralized synthetics protocol holds the key towards fulfilling our mission to democratize finance.
Through synthetics, Comdex provides seamless access to global assets and liquidity. They are innovating to enhance investors' access to a broad range of asset classes. A truly permissionless system like this can facilitate the tokenization of real-world assets with fewer hurdles than those in the traditional derivatives markets. Comdex launched MainNet on November 20th, 2021. The journey continues from here, reach out to them, stay connected, follow them on their social networks. Read More Here!
Summary
In this announcement, we are introducing our latest addition to our Staking as a Service (SaaS) offering. ValidatorNode's Comdex Validator Node. We are excited about the features/functionality that Comdex will bring to the market and are happy to add Comdex to our Validator Node Network.
ValidatorNode has committed nearly $50,000, along with over 80 man-hours, to ensure our Comdex Network Staking Validator Node is ready for you. Thus, enabling our Comdex Staking partners the ability to reap future rewards from the Comdex ecosystem.
About Comdex
Comdex was launched with a vision to create a range of solutions that enhance users' access to financial products and services. Technology has digitized the trade of equities and has made their derivatives easily accessible. Similarly, they believe that we are at the cusp of a revolution centered around increasing global accessibility, where a large set of real-world investment vehicles and products are made readily available to retail investors.
With the imminent launch of the Decentralized Synthetics Exchange, Comdex now has the central component to the puzzle, which is true democratization of finance and bridging DeFi and CeFi in the commodities space.
About ValidatorNode
ValidatorNode is a fast-growing network of validator services. Having successfully partnered with many Cosmos-based networks, as a validator, we now have more than $15 million dollars worth of delegated crypto assets. Our innovative staking-as-a-service (SAAS) model allows retail investors/individuals to leverage their cryptocurrency tokens and earn profits. As a community-driven enterprise, we believe in mutual growth forging meaningful partnerships.
ValidatorNode "Delegator Partners" benefit from the highly secure, advanced, and updated features of the ValidatorNode ecosystem. You make the maximum while we ensure seamless continuity and scalability of the validating and staking process.
You can see the validator nodes we have within our network, and read more about each one of them here.